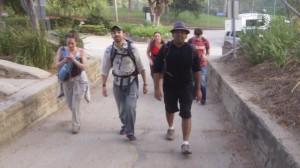 6 people showed up for last weekend's Climb the Griffith spring march. I know. 6 people. Actually, 9 showed up at Eagle Rock Brewery and 3 were just there for the beer.
In the end, we walked 12.7 miles. It took us 6 hours and 33 minutes. We walked at an average speed of 1.9 mph, 2.7 mph moving. We gained 2829 feet of elevation, and found 1 geocache. The hike was half in day light, half after night fall. It traversed quite a few peaks and really challenged us!
Some said this event was poorly planned. I wouldn't say that. I planned a fantastic hike through LA's central park. But the lack of transportation seemed to spark these claims. I specifically didn't plan transportation. I took the bus. You can too. Some people carpooled. You are an adult and should learn to move around your city.
All of the marchers had previously done a Death March but two were not current! They both earned 2011 Absentee March points. Welcome back to the ranking!
I hope that this leads to more such hikes. I know I am ready to explore Griffith Park even more now.
Here are some links to pictures:
Jesse's Pictures
Thanks for the great hike everyone!