← 2004 | ↑ The Legislative Era | 2006 →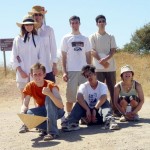 Date: Saturday, July 30th
Participants: 7
Absentees: 1
Punishments: Warm Corona Light for lunch
High Temp: 95°F
This shaped out to be one of the most anticipated Death Marches ever. It was a very important year for the Death March as it started the growth of the March, the Punishments, and a lot of the silly formality that the Death March is known for to this day. This was also the March where the most people canceled. Morder, , , and all planned to come on the hike but were unable to make it for various reasons.
officially announced the date in a message to the REVECESS Mailing List on Friday, July 15th, 2005 at 19:07:30 -0700 (PDT).
started the hike off at 10:06am with a short speech. It was at this time that the Grand Marshal first recognized as an officer of the Death March for dedication to the cause and the inception of the Punishments. The Punishment for 2005 would be warm Corona Light at Eagle Rock.
The trip started up Caballero Canyon, then up to Mulholland where the view of the Valley was incredibly clear. They then took pictures and played a little frisbee.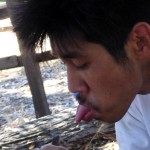 After that, the group headed off on a side trail that leads towards the Hub, but they ended up going up a trail that went nowhere. dubbed it the Road to Oblivion, but later it was renamed "The Shortcut."
After coming down, they headed to the Hub, and then went up to Eagle Rock. There, they ate lunch, drank, and played music on 's iPod.
The stop at Trippet Ranch was well appreciated.
It ended at 6:50pm. Mongolian BBQ was had by all, plus , , and afterwards.
After the banquet, a number of people wanted to hang out, but and declined as they had to drive up to Jalama that night.
An interesting aside about this March is that held a hike on the same route on Wednesday, June 29th. It was actually planned by one of 's family members. attempted to make this the Death March for the year, but since most people couldn't make it in the middle of the week, it did not turn out to be an official Death March. This challenge as to who could plan an "Official" March can be seen as one of the reasons that the formality and politics developed. was made the official leader and it answered the question of who gets to decide on the date of the Death March. It also can be seen as when the Death March became a thing and not just any old hike. This other march was counted as an Absentee March for .
Participants:
";
$counter=0;
foreach ($attendees as $attende) {
$rank=dm_hist_rank($attende['user'],2005);
$attendeez[$rank][$attende['user']]=$attende;
$attendeez[$rank][$attende['user']]['rank']=$rank;
}
krsort($attendeez);
//print_r($attendeez);
foreach ($attendeez as $attendu) {
foreach ($attendu as $attend) {
$counter++;
echo "
";
//picture
echo "
";
if (!is_null($attend['oauth_uid']) && $attend['oauth_uid']!="") echo "
";
echo "";
//show current or old title
echo "
".dm_displayname_by_id($attend['user'],$attend['year']);
echo "";
echo "
";
}
}
echo "
";
?>