Over the years, various items have been produced for people doing the Death March. Some were free, some were sold at low cost. Here is a gallery of said items.
Original Patch (c.2007)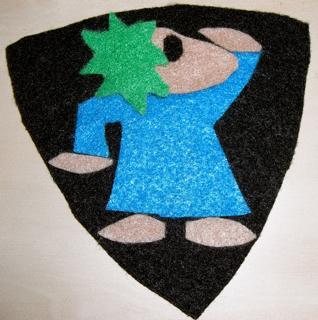 The first item was a patch made by [displayname id=1] and [displayname Id=118]. They made patches for a couple of years, but the first ones looked like this.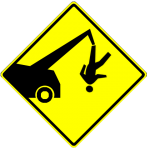 Ride/Media Corps Patches (c. 2009)
These patches were made for the members of the Media and Ride Corps.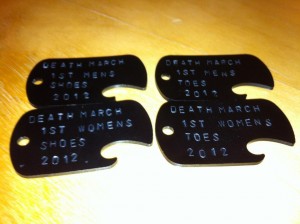 Dog Tags (c.2011)
Dog tags were made for the first and last people to finish the march in 2011. In 2012-2014, it was just fastest man and woman in shoed and toed categories. 2015 saw the dog tags go to Champions of the Sea and Major Officers. This was inspired by the dog tags made for the first 64oz. to Freedom (which was in-turn inspired by Wolfpack Hustle).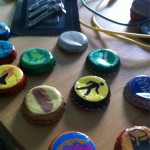 Achievement Badges (c.2012)
[displayname Id =1] whipped up some little bottle cap badges for the achievements in 2012. In 2015, he gave away the remaining stock.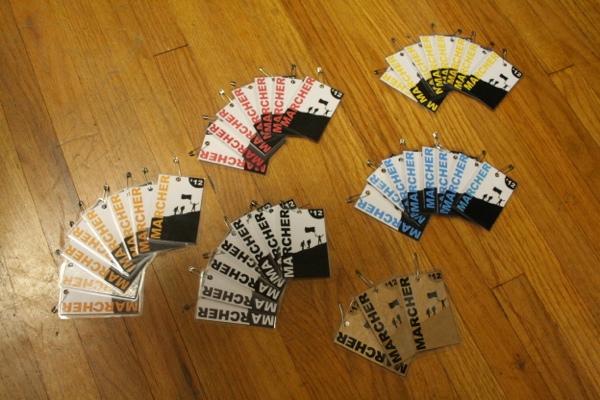 Marcher ID Badges (c.2012)
[displayname id = 124] made some amazing Marcher ID badges for 2012-2014.