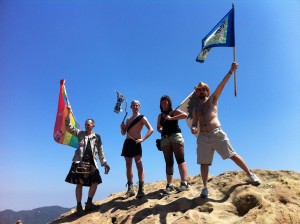 Hey everyone! Are you sore? I swear, every year the March itself seems to get easier and the recovery seems to get worse.
First off, thank you!!! We had the LARGEST March ever with 57 counted Marchers (yet only photographed 53???). Many people dressed to the theme and we even had one man march after losing his keys in a storm drain… Now that's dedication.
If you did not fill out a form (I printed 20 copies… and got 5 back), please fill it out! If you don't believe in Google, you can also download it (pdf or png) and email it to me at moc.liamg@iihsej. Or you can just list your info in the comments section. I'm looking for your titles, your team, your achievements, and whether or not you drove!
Also, I am currently making updates to the officers, the team, and the achievement pages. Please let me know if I missed something.
Also, any pictures you may have, please let me know where they are and whether or not I can use them for this site! Thanks!!!
Thanks to everyone who came! I hope to see you at the next event!