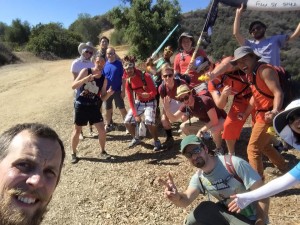 Well, the March definitely lived up to its name this year. It was hot.
Now, I've said that previously. In fact, I'm pretty sure I mentioned how hot it was the last two years. As well as I should, the two previous years were the hottest Death Marches on record for their respective years. But each one was hottest by 1 or 2 degrees. 2015, not to be outdone, broke the record by 9 degrees! It was 107°F.
And man, did we feel it.
So when we gathered (and as I looked at RSVPs), I noticed that were were going to be a small march. We managed about 18 marchers, of which 1 quit. So we have been losing members at a rather steady rate (15 or so per year). What remains to be seen is why. My three hypotheses are:
1. It is just too hot
2. We are getting too old for this shit
3. Most people will only do the Death March once or twice and our recruitment has been shitty
In any case, like I said probably the last couple of years, a smaller Death March is never a bad thing. This year was a good example of this. We all formed one massive team (The Heat Strokes) at Eagle Rock so we didn't repeat the fighting over who gets to decide things. We democratically elected a new Premiere. It was all very orderly and good. There were plenty of burgers and beer. And, most importantly, even though it was the hottest year ever, we managed to get everyone out.
I call that a win.
The theme was mildly followed. I ended up winning best dressed. Despite that, I think that having a best dressed award is a fun thing to do at Eagle Rock or the Banquet and I hope to continue it. There was also a really tubular Personal Punishment.
Additionally, we all left at about the same time.
This leads me to my next rumination — the banquet may be a fossil.
So aside from a couple of folks who left early, the great majority of the march hung out at the beach (and Gladstone's bar) until the last marcher arrived. At this point, we all then packed up the cabana and headed for the caravan. It felt so good to all be together at the end. I can't remember this sort of thing happening since some very early marches.
And then almost everyone went home.
I will admit, the banquet location wasn't the best choice. What it had for it in being open late, it lacked in coziness for weary marchers. Banquets are generally about sitting around and reminiscing about the March. I also had to leave somewhat early… so I'm not sure exactly how successful it was as I wasn't there for most of it.
While I have a grand idea to reinstate the glory of the banquet for next year, I can't help but wonder if it is even worth doing too much planning. Banquets are hard beasts and I think it may need a few more tries at something new to match the joy that was Mongolian BBQ or The Pasadero House. Or the March will soon be the size appropriate for Mongolian BBQ again.
Onward! Our Lt. Marshal is in charge of the Autumnal March this year (as he puts on the best Seasonal Marches AND we've yet to have a single documented Autumnal March). Out Vice Lt. Marshal is in charge of Winter, and the Premiere is in charge of Spring. Next year's theme is "The Wild West" which should be relatively fun and easy.
Hope to see you all soon at the Autumnal March!